As per my experience to create an elegant painting we don't need to get any certificate from a renowned Art College. I believe we just need to learn some technique that required for creating a good painting based on our ideas. As per my experience there are a few great Artists, those who did not pass out from any Art-College but they are creating extra ordinary good paintings todays by using their talent, techniques and brilliant Ideas. So we need to think first and then create a layout for further development. Finally choose a medium and apply the layout on the canvas or paper. I believe this process may help you to create superb painting. I have explained 7 easy steps for producing a good painting.
1) Think what you wish to say through your painting
2) Make layout in a small paper
3) Review yourself
4) Choose medium
5) Apply your composition on the canvas
6) Send it to your friends who has some knowledge on Art.
7) Upload them on social media or sell them through your website
Choose your subject
Our formative experiences tend to mold us into what we are. They give us our view of the world around us, and enable us to express our innermost thoughts and ideas in our own unique ways. So choose an effective subject, what we see around us or think about the topic that you feel with your emotion. Some time we become blank while thinking more about our subject extensively. In that case I would suggest to reducing the pressure in your mind and try to sort out the thinking into one theme which might be able to express your whole views into one creation.
Make layout in a small paper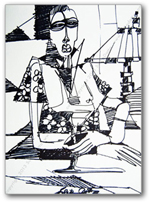 Always try to keep a small sketchbook and one pencil or a pen (with Black ink) into your bag or in the pocket. Whatever you think try to draw them on the page of your sketchbook. Try to draw them in various angles. Also apply some light source if possible. Try to gather details for future plan.
Review yourself
Once you have gathered some rough sketches, you can start to create a separate or final layout for further actions. Review the layout and focus on the geometrical form of the painting. There are so many we can create many shapes for the final painting portrait, landscape, cube or circle etc.
Choose medium
Now you need to select the medium. It might be water colour, Pencil work, Line drawing, Charcoal, Acrylic, Oil-Pastel, Dry Pastel and Oil. Did I miss anything? Feel free to put your comments in the comments box.
Choose your stage.
After selecting the medium we should think about the platform. I mean where we should apply my colour. It might be Paper or Canvas or other material. Common point is If we work on the paper we should avoid the Acrylic or oil medium. It is better if you use Canvas for Acrylic or oil medium. Recently we are also using special treatment canvas for water colour.
Send it to your friends who have some knowledge on Art.
Once we complete our painting we can send the photo of this painting to our friends. Those who are real Art lover, visit to the local Art-gallery in regular basis. I believe we can get some proper feedback from them. But I believe we should not modify any part of our painting unless we agree the logic of the proper criticism.
Upload them on social media or sell them through your website.
Finally upload the photo of the painting to the social media page or send it to the gallery for the approval of their exhibition. Or you can sell them directly from your website or Blog.